News Archives
April 26, 2009: Libby's baby, newly named "Mirage," went to her new home at Chippewa Acres. Congratulations to Kristina Chamberlain of DeWitt, Michigan, who now owns her very first camel!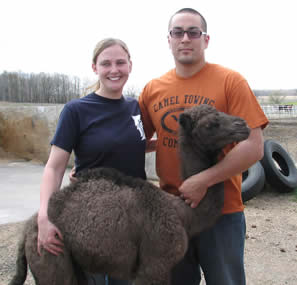 April 18, 2009: Libby had a baby girl! Born around 7:30 a.m., this baby is doing great. She nursed a little from Mom, then we bottled her with some additional colostrum Don pulled from Libby. We finished her off with goat colostrum and she's now on formula. She's talkative and was up and walking around within an hour of birth.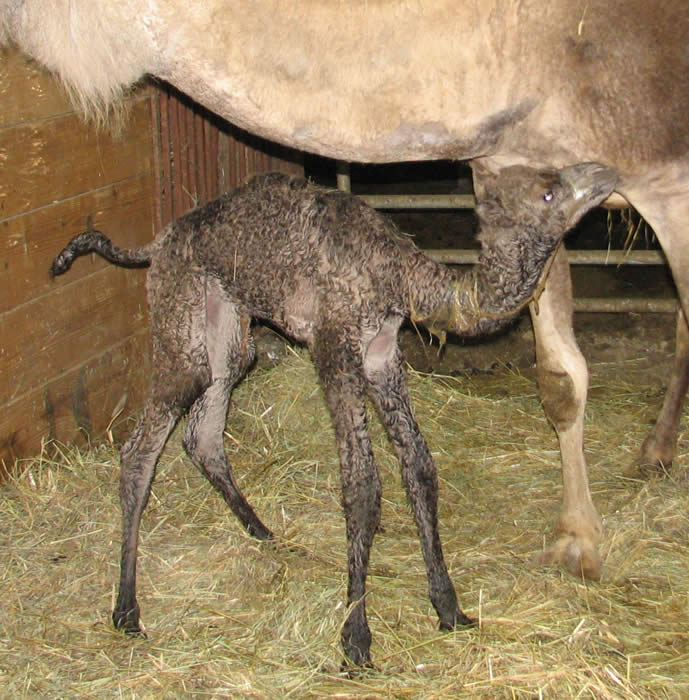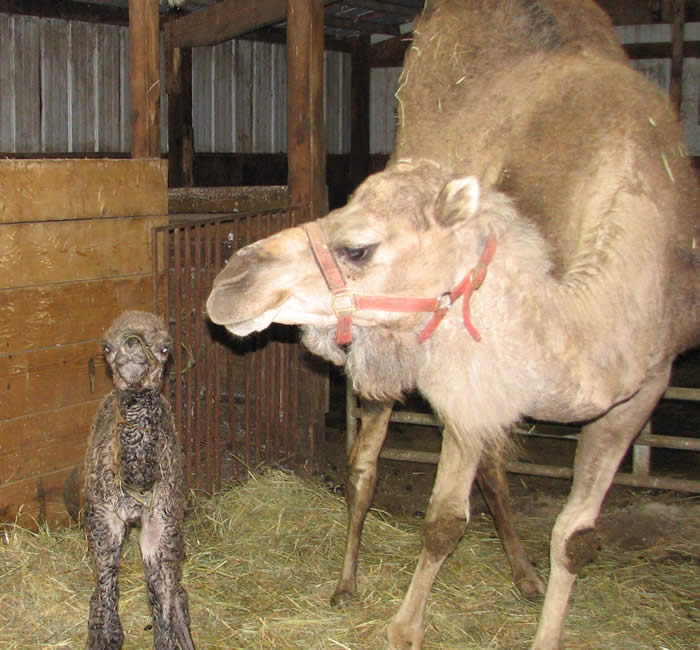 April 14, 2009 Camel Clinic Update (flyer): In addition to other camels being offered during the silent auction, StroBull Farms is consigning a 1.5 year old gelding used in a petting zoo. He loads, leads, and is super gentle. Also, an 8-year-old female will be available. She's been a backyard pet, previously unexposed. We can't promise that she's bred, but has had several dates with our bull, Hump. She's green, but the possibilities are endless.
Two of our cows are as big as a house...we know you're not supposed to shake a baby, but we're pretty sure that if we shook the moms, the babies would drop out. Bottle babies are an imminent possibility. UPDATE: Libby had a baby girl on Saturday, April 18! She's a strong, sturdy baby and is doing great on the bottle.
Camel saddles, pads, and equpiment will be available for sale, brought to you by leaders in the camel industry from the past 20 years. So, if you're looking for high quality equipment, now is the time to buy.
March 2009: Save the date: the 2009 Camel Clinic will be held in So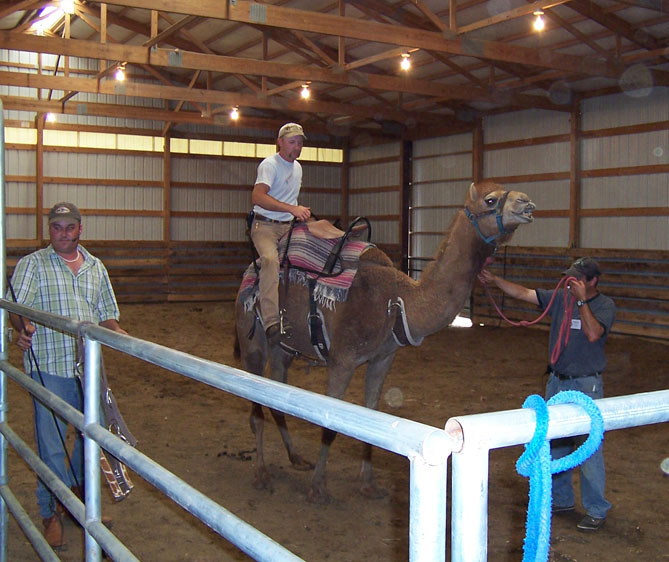 utheast Michigan April 24-26! Sponsored by Smooth and Meachelle Roose of Double R Ranch (Burfordville, Missouri), this is the camel training event to attend. Gain invaluable knowledge about camel behavior, training, and grooming from one of the best trainers in the United States, his crew, and the other knowledgeable camel lovers in attendance.
In addition, there will be a silent camel auction. Several camels already have been consigned, so plan to join the clinic for tips, information, and maybe a new camel to add to your herd! Saddles and saddle pads will also be available for sale.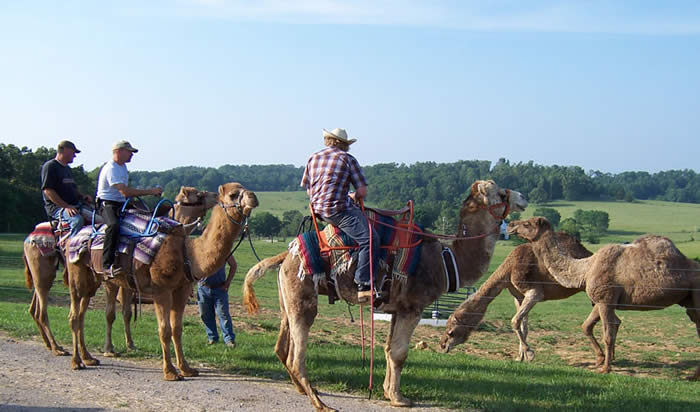 Read the flyer (.pdf file) and check back often for more details. Feel free to contact us with lodging and transportation questions.
July 14, 2008: Prissy's baby boy arrived at 8:00 a.m. Don named him Bill (as in "to pay the vet bill"...see note below about Liberty), and weighing 90+ pounds, he is one of the largest, strongest baby camels we've ever seen. As an added adventure, Don milked Prissy to give Bill a good start with camel colostrum.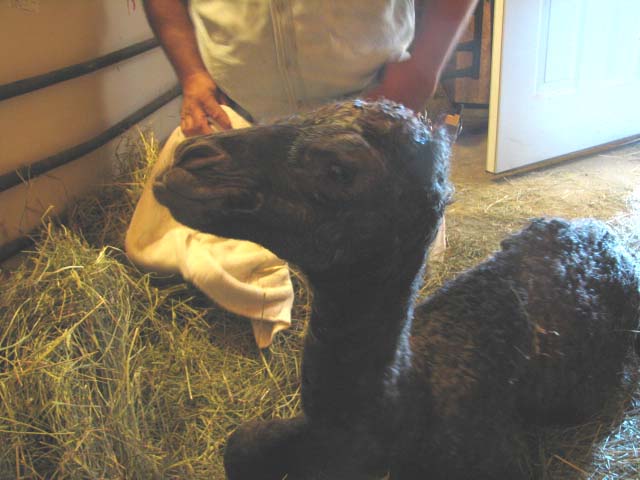 July 4, 2008: Doc was delivered of a tiny baby girl. Born premature and weighing only 40 lbs., Liberty spent nearly two weeks with Dr. Anita Varga at Ohio State University's Veterinary Hospital. We are grateful for the outstanding care she received at OSU and so very happy to have Liberty home with us again. Don has dubbed Anita the "camel goddess," although she's too modest to add the title to her vitae!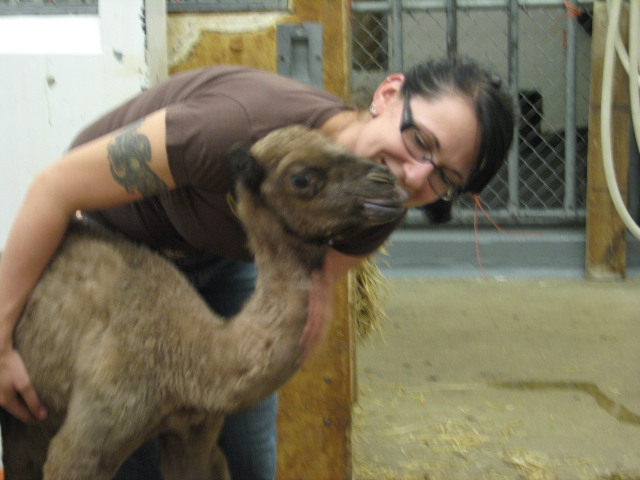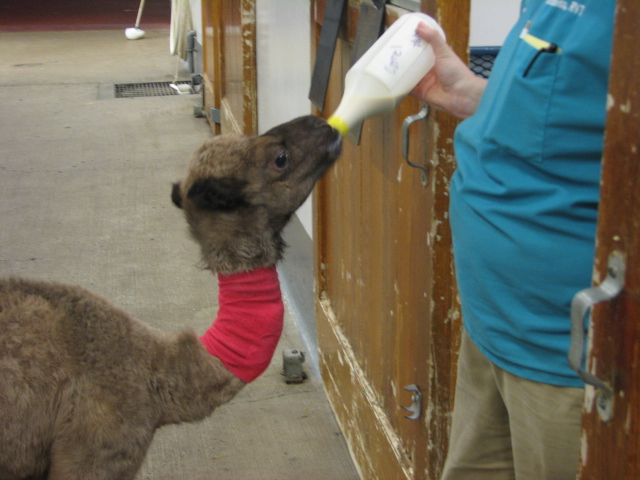 May 23, 2008: Kathy gives a ride to a group of siblings at the Walleye Festival in Sandusky, Ohio.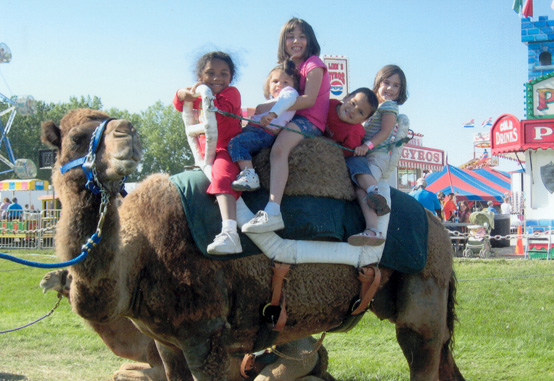 March 2, 2008: Ginger delivered a baby girl Sunday morning. Named Snap, here she is at about four hours old. She's small but strong and has a super sweet personality. Her new home is in Pennsylvania, where she'll join big brother Harley (Hump x Audrey, 2005) at the Gallow Farm.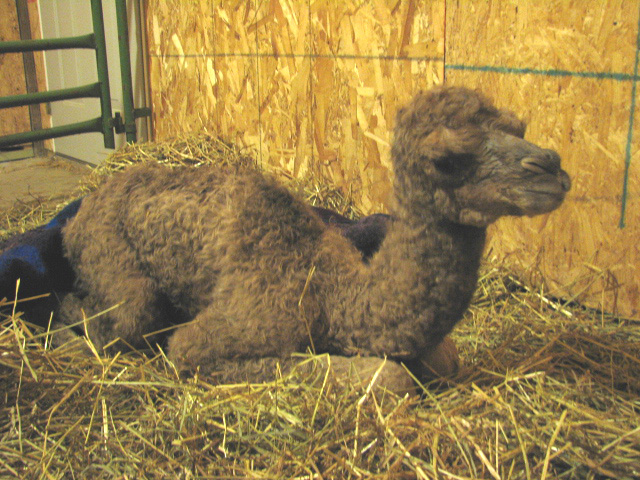 January 21, 2008: We finally celebrated the birth of one of our camel babies at our farm! Libby's baby girl arrived in the afternoon on a COLD day. Don dried her off and set her up in the warm room. Her new owners christened her Chloe, and she's all set for a great life at a petting farm in Virginia.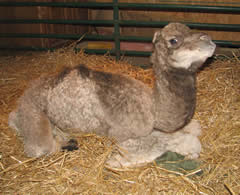 July 13, 2007: It's a boy! Jay and Jeanette came home to find Kathy delivering an early arrival in the pasture. Don named the babe Lu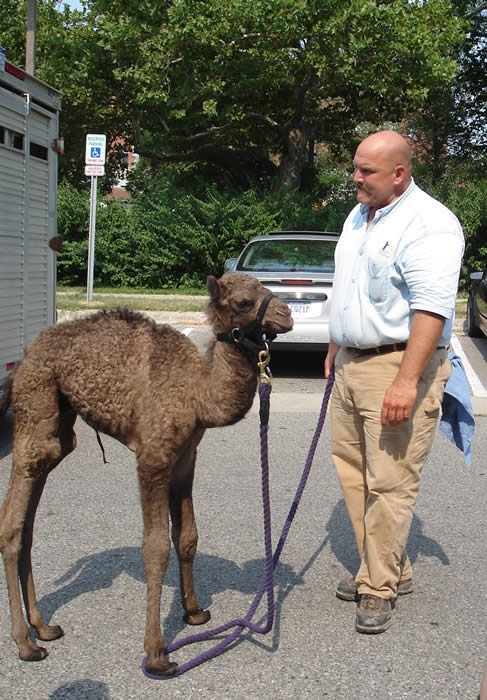 cky due to his Friday the 13th birthday. Kathy and Lucky are both doing well.
June 7, 2007: There's a new bull in town. Special was delivered of her first calf, which Don named Von da Bull. Von quickly made friends with the lamb in his neighboring stall. This mini is three days old in this photo...playing with a three-week old lamb.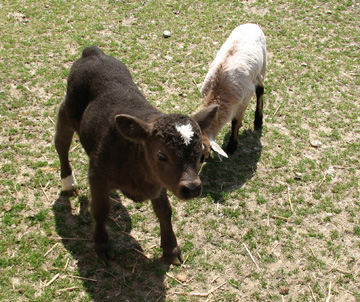 June 7, 2007: During the middle of the night, Doc delivered a baby girl. Both Doc and baby (Alison) are doing well. She's a dark chocolate color and will be available in the next couple of months. For more camel baby photos, see the baby page.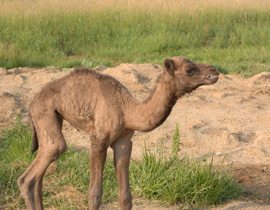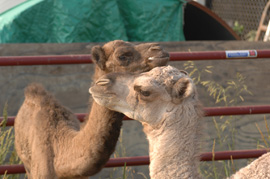 May 19, 2007: Prissy gave birth to a bouncing ba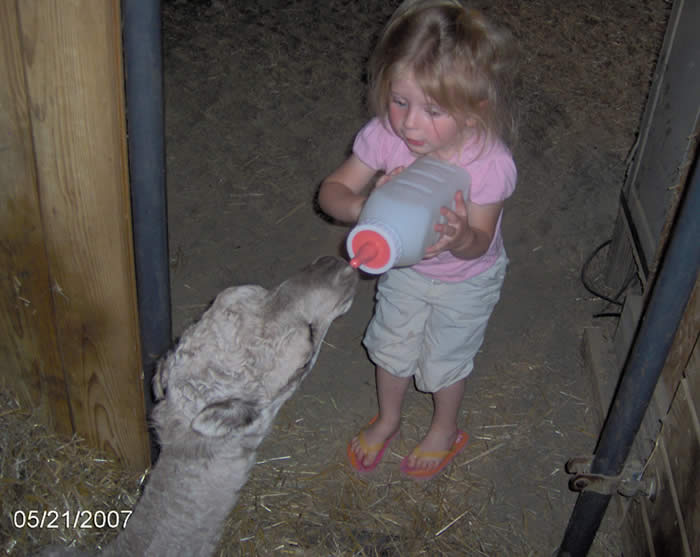 by boy! Midwife and dear friend Jeanette Norris assisted in the birth and got him on the bottle (with a little help from granddaughter Jordan). He's already spoken for, but not to worry...more babies are due in the next several months.