The Players
In 2007, our dear friends Jay and Jeanette Norris decided they'd rather spend winters in Texas sipping sweet tea than getting up in the middle of the night to bottle-feed a baby camel. They graciously offered us their beloved herd of dromedary camels as a package deal. They knew we would keep the family together and love their "kids" as much as they did. So we've added five new beasts to the herd. Descriptions of Hump, Libby, Cathy, Ginger, and Doc will be added soon. See our camel babies.
Godfrey
Godfrey is our working gelding. When just one camel is needed for an event, he's always our first choice. He has such an incredible trust with me, he will follow me anywhere. He's been in some tight spots that have made me almost jump out of my skin, and he's been rock solid. Godfrey—relatively small for a Dromedary—climbs steps, goes through doorways, and has even taken an elevator ride. He's so good-natured that when approached by children, he will automatically kush on his own, and at one event, spent three hours with more than 150 children clamoring around him and never tried to get up.
Prissy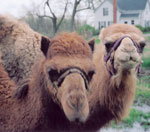 Prissy is our latest addition. She's a 14-year-old who calved in May 2007. She's one of the herd leaders, and she'll be bred back for a 2008 baby.
Godiva and Ofelia
These two girls were our first females. Godiva is a beautiful, rich, dark chocolate color. Ofelia's personality matches her name: she is rapidly growing to be the herd Queen B.
Wilma
Yes, this is the camel that I presented to Michelle as an engagement presen

t while in Indiana. If you weren't one of the several hundred people in attendance to witness it, good. I don't need any more witnesses.
Audrey
Audrey is a monster female that we've had for a few years. She belonged to the late Audren Garrett, and I feel honored to have one of his camels. She'll never leave this farm.
Jim
Jim is our breeder bull. He's the first adult bull I've ever dealt with. When I bought Jim, the crew was having a difficult time loading him on the trailer, and he was getting very upset. The situation was reaching critical mass and I was concerned that someone was going to get hurt. I walked up beside him, grabbed his rope and said, "Move up, Jim" several times, and he proceeded to follow me onto the trailer. As I turned around, unhooked the leash, and closed the trailer door, one of the unsuccessful handlers said, "Is his name Jim?" "It is now," I replied.
We really enjoy our camels. We wake up every morning to see them looking in our bedroom window. We love talking about them and to them. If you have any questions about them or camels in general, feel free to contact us.